The key activities of ODD FOUNDATION are categorized under the following heads: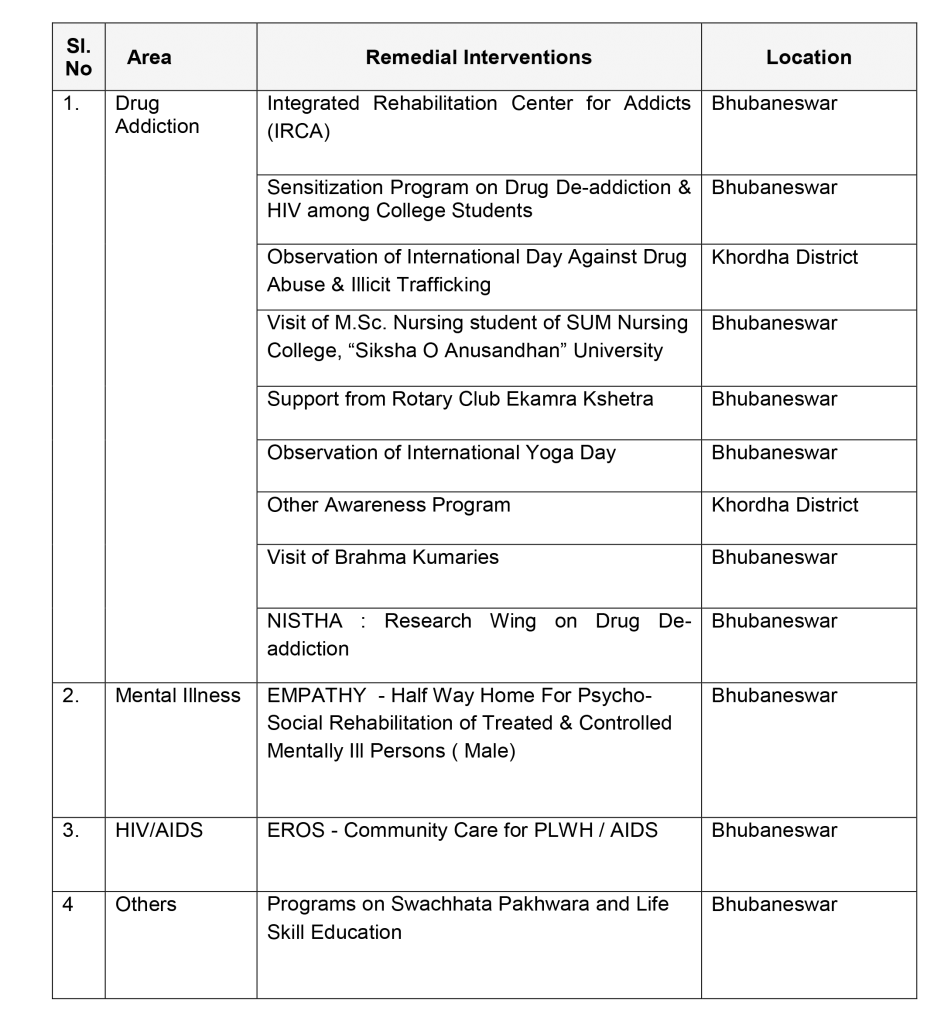 DRUG DE-ADDICTION
Alcoholism and drug abuse have become a major social concern today. The entire world is confronted with this problem in some form or the other. With India's vulnerable geographical position between the two major drug producing zones — the Golden Triangle and Golden Crescent, drug menace continues to spread its tentacles in the country, acquiring ever growing dimensions. The society pays a significant cost due to people abusing substances such as drugs and alcohol. Illicit drug use is a serious concern since it poses significant health challenges. The younger generation is especially vulnerable to the menace, being easily lured to drugs, be it for excitement, curiosity or drug related risk taking behaviour.
While on the one hand, the use of drugs and alcohol is increasing, on the other hand, we find that social taboos, emphasis on self-restraint, discipline inherent in a joint family system and traditional moorings are eroding. Among other factors, the fast changing social milieu arising out of this social and economic transition, which the country is going through, is contributing to the proliferation of drug abuse. The introduction of synthetic drugs and intravenous drug use leading to HIV/AIDS has added a new dimension to the issue.
Thus ,there is an urgent need to provide a whole range of community based services for the identification, counselling and de-addiction of addicts along with their after care and rehabilitation. Since alcoholism and drug abuse is a psycho-social-medical problem requiring a holistic approach, the aim of the comprehensive treatment programme should not merely be to get the addicted individuals off alcohol or drugs. Focussed attention on making the addicts productive members of the society by making them drug free, crime free and gainfully employed, is what is required.
INTEGRATED REHABILITATION CENTRE FOR ADDITCS (IRCA), BHUBANESWAR.
The Integrated Rehabilitation Centre for Addicts (IRCA) of ODD FOUNDATION is a 15 bedded Drug De-addiction facility which provides integrated services for Drug De-addiction. It was established in the year 2007-08 and now it is functioning at Khandagiri, Bhubaneswar, in Khordha district of Odisha, with support from Ministry of Social Justice and Empowerment, Government of India .The aim of the IRCA is to provide for the whole range of community based services for the identification, motivation, counseling, de-addiction, aftercare and rehabilitation for Whole Person Recovery (WPR) of addicts to make a person drug free, crime free and gainfully employed. It also aims to improve the quality of their life by identifying and dealing with personality defects, strengthening inter-personal relationship, developing healthy work ethics, improvising financial management and taking responsibility as a substantial family member. This can be made possible by being aware of risk factors and developing positive coping skills to sustain recovery.
The Main Activities of IRCA are —
– Preventive Education and Awareness Generation
– Identification & Motivational Counseling
– Detoxification
– Individual, Group & Family Therapy sessions catering to the need of the individual client
– Yoga and Meditation with spiritual discourse
– Care and Support to families through Counseling
– Referral Services
– Aftercare & Follow–up
–  Rehabilitation through appropriate vocational training and networking
The Daily Activity at IRCA :                                     
The everyday activity of IRCA is summarized below:
6.30 AM is the time for wake up call to all the patients except those in severe withdrawal. The peer educator is in charge of monitoring the inmates for the morning session and thus he looks after that everyone get their teeth brushed.

The ward boy assists him in this work. Then   morning tea is served and after completing their bowel movement all the patients are gathered in the Hall for the Yoga session. Guided by the Yoga Therapist the group performs yoga, meditation and physical exercise for forty five minutes .This session continues up to 8.45 AM.
After that they relax and finish their bathroom chores .Then breakfast and tea is served and medicine is distributed within 10 AM.
Individual counseling Sessions are taken between 10 to 11 AM. Patients share their feelings, views, problems if any and status in the recovery program with their respective counselors and are well guided for further progress.

Re-educative sessions for the clients are taken between 11 AM and 12 Noon as per the schedule. Sometimes re-educative sessions for the family members are also taken, the timing for which is fixed earlier and they are informed well in advance.
From 12 Noon to 1.00 PM again some Individual Counseling Sessions are taken for those left out, if the counselor feels that it is required for the patient. Others either relax or play some indoor games or go to sleep if they feel like.
Lunch is served between 1.00 to 2.30 PM and patients take rest from 2.30 to 4.30 PM. After that between 4.30 to 5.30 PM patients are engaged in recreational activities such as playing Chess, Ludo, Carom, Cards etc. , watching T.V or Listening Music. Afternoon tea is served during this period with L.P reading on fixed dates. On 4th Sunday of every month during this period NA Information Session is taken.


5.30 PM to 6.30 PM is the time for AGNIHOTRA followed by Spiritual Discourse. Patients get refreshed, wash their hands and legs and participate in the Agnihotra (a small Yagyan) with chanting some Hymns. Then some spiritual discourse is given for 20 to 30 minutes to develop their moral standards.

Evening tea and Tiffin is served between 6 to 7 PM. The Group Therapy Session starts from 7 PM controlled by the facilitator and the observer which extends up to 8.30 PM.

The facilitator initiates the Group Therapy Session and facilitates the proceedings while the observer helps him by keeping a close watch on individual members. He takes quick and strong action if he feels that the discussion is going wrong way and brings them back to the right track again.

After the Group Therapy Session is over patients are free to watch T.V or take rest. Dinner            is served between 9.30 to 10.15 PM. And then medicine is distributed by the resident nurse.
Prayer is a must for every one before going to bed which is monitored by the Peer Educator.  By 10.45 PM. light is switched off and all go to sleep.
DISTRIBUTION OF PATIENTS' DATA
As per Registration and performance:
Total number of 268 patients were registered during the period 2018-19 in the centre. Out of these 207 are first time registered in indoor and 61 are revisited cases.
249 cases completed treatment and19 dropped out during the treatment period. Out of those who completed treatment during the report period, 155 are sober, 85 relapsed, and 9 patients have no news. The age group of the indoor patients ranged from 16 – 68 years. The number of cases registered in the OPD is 334.
As per Choice of Drug:
Among the 268 patients who were registered in indoor during the period April 2018 to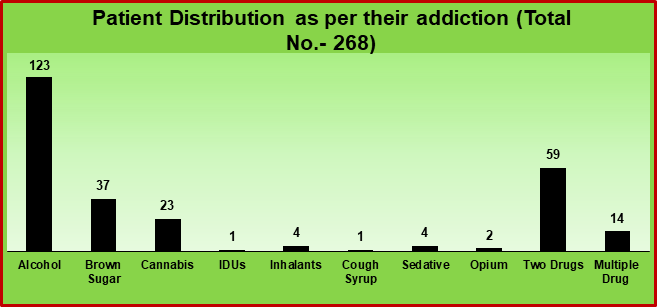 March 2019,123 were Alcoholics, 37 Brown Sugar addicts, 23 Cannabis addicts, 1 IDU, 4 abused Inhalants, 1 abused Cough Syrup, 4 abused Sedatives, and 2 abused Opium.        As many as 59 were abusing Two Drugs while 14 were Multiple Drug Abusers.
AS per Marital Status:
Among the clients admitted during the reference period, 127 cases are unmarried, i.e. around 47.39%. While 134 are married, i.e. 50%, 6 cases, i.e. 2.24% are separated or divorced due to drug abuse and 1 patient i.e. 0.37% was widower.

As per Educational Status:
Out of 268 patients who received treatment in indoor, 2 were illiterate, 2 literate, 13 completed Primary Education, 76 were up to Middle, 87 completed Higher Secondary,32 were Graduate, 4 Post Graduate and 52 were Professionally Trained.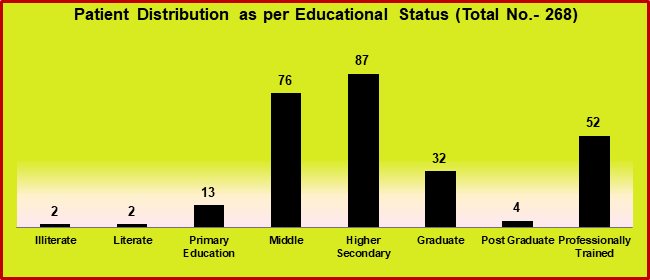 As per Employment Status:
Regarding employment status, 88 were currently unemployed, 27 never employed, 23 part-time employed, 52 full time employed, 47 self-employed, 21 students and 10 pensioners.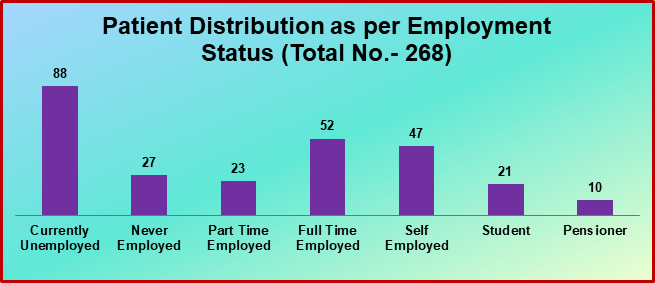 Rehabilitation Programs Given:
Rehabilitation of recovering addicts is done through appropriate vocational training and networking. This year we provided 6 addicts with appropriate vocational training and they were rehabilitated accordingly as cook, data entry operator,mechanic etc.

As many as 14 were rehabilitated at educational settings, 20 rehabilitated with workplace,15 received family assistance program and 6 were linked with Self Help Groups. During the report period 7 recovering persons received Day Care service, 78 availed aftercare service and 20 were either offered private jobs through networking services or helped to settle with self-employment.
 Referral Services:
 After successful completion of treatment from IRCA, clients are referred to NA (Currently 6 Groups are active in Bhubaneswar) and AA for their maintenance of recovery. Some clients are also referred to certain networking agencies from time to time for consultation and guidance regarding their specific problems.
Networking with Concerned Agencies:
 The IRCA, ODD FOUNDATION has a networking with the following agencies which provide a variety of services for the patients.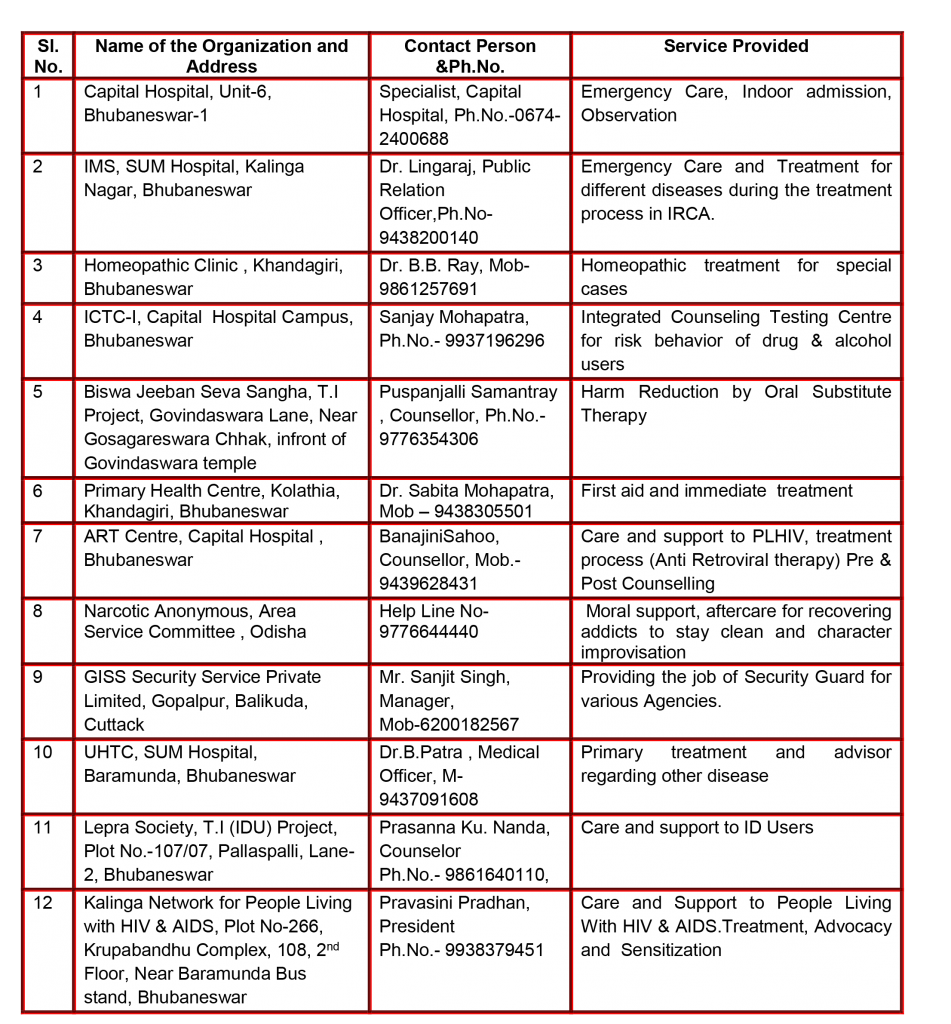 Training Programs Attended by Staff Members:
 During the period April 2018 to March 2019 five Staff Members attended the Training Programs of National Institute of Social Defense (NISD), New Delhi, conducted by Regional Resource & Training Centre (RRTC), East Zone-III, Odisha Region. The duration of the Training Programs ranged from 3 Days/5 Days/15 Days.
The details of the Training Programs attended by the personnel of IRCA during the period April 2018 to March 2019 is given in the following table :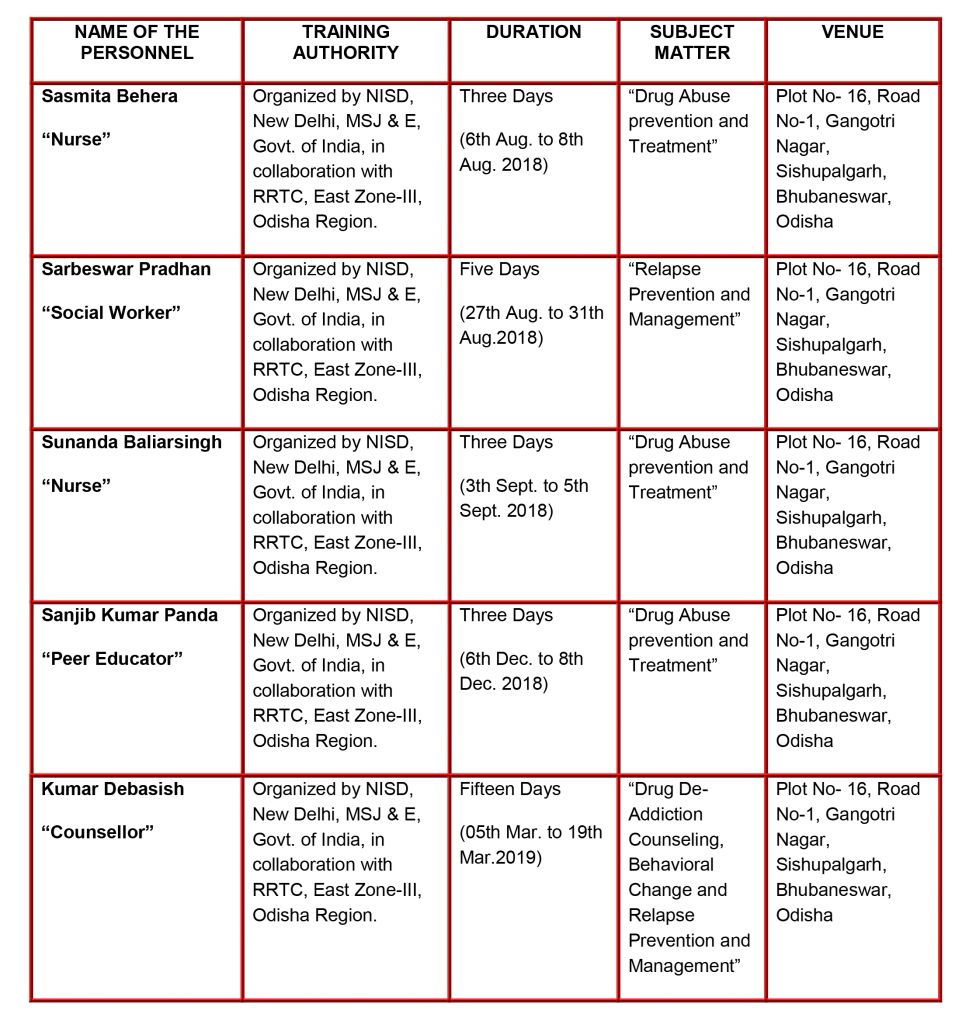 SENSITIZATION PROGRAM ON DRUG DE-ADDICTION & HIV AMONG COLLEGE STUDENTS
College students make up one of the largest groups of drug abusers nationwide. Starting out in college produces some natural social anxiety for many students. The temptation to drink is strong because college students overwhelmingly find that alcohol makes socializing easier. Not all college students immediately start binge drinking and doing drugs, but routinely drinking to have more fun leads many students toward addiction.
The high rates of drug abuse among college students can be attributed to a number of factors, including stress, course load, curiosity, peer pressure etc. Research has shown that drugs and alcohol make chemical changes in the circuitry and pathways in the brain related to managing emotions, making sound decisions, mitigating risk-taking behaviors, controlling impulses, motivation levels, and the manner in which an individual experiences pleasure and reward. Abusing mind-altering substances before the brain is fully developed may lead to negative changes in the brain and its functional capabilities that may have long-lasting effects.
Taking this into consideration ODD FOUNDATION took up the task of sensitizing the college youth on Ill Effects of Drug Abuse and Alcoholism. Two colleges in Bhubaneswar were covered under the program during this year.
Gayatri Science College, Bhubaneswar
A sensitization program was organized on 12th December, 2018 in the premises of Gayatri Science College, Bhubaneswar, with prior permission from the Principal Mr. Rama Krushna Dash.  As many as 80 students and 11 teaching staff participated in the program. The main focus of the program was to sensitize the students about the ill effects of drug addiction.
From ODD FOUNDATION Mr. Kumar Debasish, the Counsellor of IRCA, Mr. Sarbeswar Pradhan, the Social Worker and Mr. Manoj Kumar Das – a retired aeronautics engineer and recovering addict, were the spokesperson. Six other recovering addicts also participated and shared their experiences with the students.

After the welcome speech by the Principal, Mr. Kumar Debasish started the session by focussing on the issue of how drug abuse has led to a detrimental impact on the society. With most drug users being in the productive age group of 18-35 years, the loss in terms of human potential is incalculable. What then to say about the most vulnerable group–the college goers!!! The damage to their physical, psychological, moral and intellectual growth is alarming leading to an increase in crime rate. Addicts resort to crime to pay for their drugs as drugs remove inhibition and impair judgment egging one on to commit offences.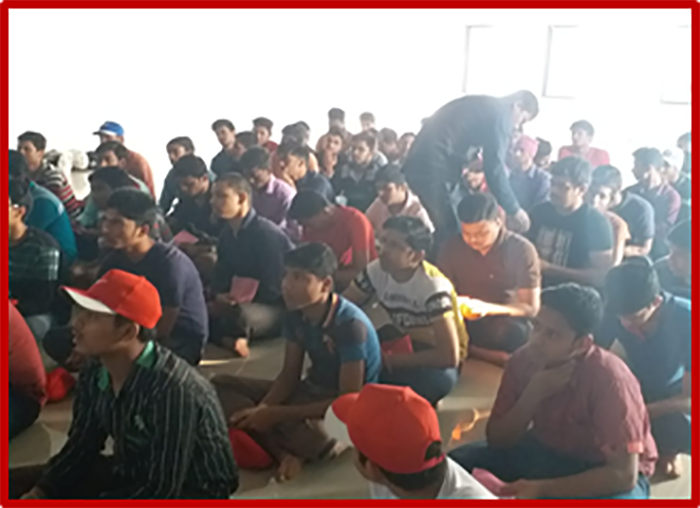 Mr. Kumar Debasish then highlighted on the topics like what is addiction, addiction vs. abuse, signs of addiction, and how drug use affects our brain .Different types of psychoactive substances and their consequences on the sensitive internal organs was clearly explained to the students. A clear cut difference between use, abuse and addiction was well explained with some practical examples. How addiction is both physical and mental dependency, what are the preventive measures and how it can be handled successfully with the help of the rehab was thoroughly discussed.
The program continued as the Social Worker of IRCA, ODD FOUNDATION Mr. Sarbeswar Pradhan shared his field experience with the students .He focused on most frequently used drugs in college campus and its detrimental effect on the students .Practically how a student is dragged into the vicious circle of drug addiction once he starts using by himself was clearly explained to the students and it aroused heightened interest among the students. Several questions from the curious minds was put forth and it was explained with clarity by Mr. Pradhan. Different types of psychoactive substances and their consequences on the sensitive internal organs was clearly explained to the youngsters .He also highlighted on the disease concept of addiction and its treatment process.

This session was followed by another more interesting session of sharing by Mr. Manoj Kumar Das – a retired aeronautics engineer and one of our recovering addict .He shared his experiences of active addiction and how he struggled hard to get over his cravings. He explained to the young mass that addiction can result in a complete degradation of Physical, Mental, Social, Economical, Educational, Spiritual and Moral standards making the person completely isolated from his physical world .It is considered both a complex brain disorder and a mental illness.
Other recovering addicts also shared their experiences with the students.They helped the students by giving important informations and cautioned them not to use any kind of psychoactive substances. Because at first they may enjoy the way it feel but over a period of time their dependancy would increase and without their knowledge they would find one day that they have become addicts. Then it would be too late. So one should always remember that prevention is better than cure and when one is aware there should not have been any mistake.   
The students and the faculty members put forth a bunch of questions to satisfy their queries and the team of professionals explained to them everything with great patience and enthusiasm. Finally the session came to an end with valuable feedbacks from the Principal, and other faculty members. Caps printed with 'No Drugs' was distributed among students. There was an appeal to the students to refrain from any kind of drug abuse and lead a healthy and meaningful life.
Skill Development Institute,Mancheswar, Bhubaneswar
Another sensitization program was conducted at the Skill Development Institute, Mancheswar ,Bhubaneswar, on 16th February 2019. As many as 85 students and 9 teaching staff participated in the program. The CEO of the Institute Mr. M. N. Rao, the Principal Mr. Manoranjan Moharana and the Administrative Officer Mr. Manoranjan Behura were also present.
From ODD FOUNDATION Mr. Kumar Debasish, the Counsellor of IRCA, Mr.Sarbeswar Pradhan, the Social Worker and two recovering addicts namely Mr. Kamalakanta Mohapatra, a lecturer in Mathematics and Mr. Manoj Kumar Das , a retired aeronautics engineer, were the spokesperson. Some other recovering addicts also accompanied them and shared their experiences.

The program started at the conference hall of the institute with the welcome address by the Counsellor of IRCA, ODD FOUNDATION Mr. Kumar Debasish. The team of resource persons were introduced to the faculty members and students.
After that the session started with a Power Point presentation which went on systematically starting with different categories of drugs and its definition, the short term and long term effects of such drugs and alcohol, withdrawal of such drugs and its management. This was followed by various stages of addiction and the symptoms of addiction.
Then a break was taken for snacks and tea .During the break the students and the staff members asked a number of questions regarding drugs abused in Odisha and the present scenario of college campuses which is quite worrisome.
The second session continued with the presentation of the entire process of treatment starting from identification & motivation through indoor treatment, counseling, different therapies, after care, follow up and finally with appropriate rehabilitation.
The Social Worker of IRCA, ODD FOUNDATION Mr. Sarbeswar Pradhan shared his first hand experiences of addiction with the students .He discussed about various pockets in the city which are most vulnerable areas and why one must strictly avoid such places. He further explained to the students that college is a time of great personal growth and education, but it is also a time to have a lot of fun. Unfortunately, people often take this fun too far by delving into excessive drug and alcohol abuse. This impacts millions of college students every year in multiple ways, including creating a lifelong addiction, causing educational problems, and even personal injury.
However, it is possible to avoid alcohol and drug abuse in college. It takes a lot of personal strength and focus, but one don't have to fall down this dangerous track. Understanding the reasons behind college-age drug and alcohol abuse and how to fight those influences can give the strength one needs to live a life free from addiction.
Mr. Kamalakanta Mohapatra,  lecturer in Mathematics, put forth his understanding of drug abuse by saying that among many students, drugs and alcohol are very accepted and often seen as a natural part of everyday life and the college experience. Because many colleges don't want to mar their reputations, they handle drug and alcohol abuse situations internally. The increasing ease of access to and destigmatization of drugs-particularly marijuana-and alcohol use contributes to college "tolerance culture." There is, however, a growing number and variety of resources to help students stay above the casual attitude toward substance use on campus.

Mr. Manoj Kumar Das emphasized on the fact that college campuses often serve as the base point for drug use. New substances usually reach college students long before the general public is aware of their existence and dangers .He addressed the issue by saying that there are several reasons that students cite as to why they become intoxicated or high–
Everyone else is doing it –When everyone is doing something, it becomes the "cool" thing to do. Those who don't do it may start to feel left out.
It's available everywhere–College campuses, sometimes even those that are designated as "dry" or are situated in a dry community, are rife with alcohol and other substances. Alcohol tends to flow freely at parties.
They are curious–Many college students are away from home for the first time, which means they suddenly have the freedom to try things they haven't experienced before, including alcohol.
They want to relax–Those who are stressed out by classes, worried about finances, or even going through a breakup might turn to alcohol to take the "edge" off.
They think they're more fun when they drink–The "life of the party" is often someone who has indulged a little too much. Students may believe they will be just as popular, as long as they have something in their system to help them lower their inhibitions in order to be more "fun."
Some recovering addicts then shared their experiences of how using drugs hampered their life and deteriorated their face value.
Finally the session ended with thanks giving. The students were warned not to experiment on any kind of such drugs or alcohol as it will ruin their life and future.
OBSERVATION OF INTERNATIONAL DAY AGAINST DRUG ABUSE AND ILLICIT TRAFFICKING:
In view of the growing menace and the deterioration of the quality of life the General Assembly at the United Nations, in December 1987 designated 26th June to be celebrated with effect as the International Day against Drug Abuse and Illicit Trafficking. This resolution also recommended further action to be undertaken with regard to the report and conclusions of the 1987 International Conference on Drug Abuse and Illicit Trafficking.
The day as an event is celebrated worldwide with much conscious fervour to make people aware and emphasize the hazards of drug addiction and illegal trafficking. A problem which is a major deterrent to humanity and a poison to the well-being of the youth in particular poses greater problems to the socio-economic and political stability of a nation as also disturbing the sustainable development of a nation.
On the occasion of International Day Against Drug Abuse and Illicit Trafficking different programs were carried out on 26th June 2018.
To mark the occasion of International Day Against Drug Abuse and Illicit Trafficking, a Rally was organised by RRTC East Zone-III, Odisha Region, on 26th June on the morning at 7.30 AM. The rally started from Master Canteen and ended at the IDCO Auditorium.

Members from different NGOs took part on the occasion and shared their views. Around fifty people took part in the rally with placards in their hand and shouting slogans to aware people against this dangerous social evil. The counsellor of IRCA, ODD FOUNDATION, Mr. Kumar Debasish represented ODD FOUNDATION on this occasion.
Mr. Neeten Chandra, Secretary, SSEPD Dept., Govt. of Odisha was the chief guest on this occasion. Addressing the public he emphasized that — The International Day against Drug Abuse and Illicit Trafficking recognises the severe impact that illicit drugs have on health,
development, peace and security. Around 190,000 people die due to illicit drugs every year. But the damage visited upon lives and communities does not stop there. Drug use damages health in the form of debilitating HIV, hepatitis and tuberculosis, while drug trafficking nourishes money laundering, and deadly terrorism. Corruption, the great enabler of organized crime, exists throughout the drug supply chain. Thus unless we reduce the demand for such drugs we can never fully tackle the problem.

A Seminar on "Challenges to Substance Abuse Control, Prevention, Treatment & Rehabilitation" was conducted at NISWAS College, Chandrasekharpur, Bhubaneswar by SSEPD Dept. Govt. of Odisha on 26th June 2018 at 11AM. Mr. Neeten Chandra, Secretary, SSEPD Dept., Govt. of Odisha was the chief spokes person on this occasion   and he focussed that, once viewed as a marginal actor on the development stage, drugs and crime are now viewed as a disturbing obstruction to the achievement of Sustainable Development. And our response should be to work closely with partners to prevent drugs and crime that undermines development, peace, and human rights. Mr. Kumar Debasish, the counsellor of IRCA, ODD FOUNDATION participated in the seminar and discussed actively on the issue.
Another Awareness Program at the Sub-Collector Office, Khurda was organised where Mr. Nihar Ranjan Dash, Secretary, ODD FOUNDATION was present along with other functionaries of NGOs working in the area of drug de-addiction .A rally was organized on this occasion and the District Social Security Officer, Mrs. Pratima Dash addressed the gathering by saying that — Unless we reduce demand for illicit drugs, we can never fully tackle cultivation, production or trafficking. Though Government has a responsibility to counteract both drug trafficking and drug abuse, communities can also make a major contribution. Families, schools, civil society and religious organizations can do their part to rid their communities of drugs. Again she emphasized that substance abuse and the illicit trafficking of drugs is an evil in our society and disorientation among a majority of the youth. Drug trafficking is an industry working generally on a vicious cycle of manufactured demand and then supply.
ODD FOUNDATION undertook an awareness campaign on the occasion of International Day Against Drug Abuse and Illicit Trafficking on 26th June, 2018 from 3.30 PM to 7.30 PM.

During this period the members of ODD FOUNDATION covered the areas of Baramunda Bus Stand and Rasulgarh Truck Association. A van decorated with banners and posters ran through various pockets of the city .Members distributed pamphlets and leaflets among the public and urged them to join hands together to fight against this social evil.
Another sharing competition among the indoor patients was organized at the premises of ODD FOUNDATION to mark the occasion .The counsellor and social worker took charge of this .Inmates were encouraged to share frankly and honestly. After sharing is over the counsellor gave a small speech on why we must celebrate the International Day Against Drug Abuse and Illicit Trafficking and declared the winners of the competition. 1st, 2nd and 3rd prize was distributed and finally T-Shirts and Caps were given to all the inmates.
VISIT OF M.Sc. NURSING STUDENTS OF SUM NURSING COLLEGE, "SIKSHA O ANUSANDHAN" UNIVERSITY, BHUBANESWAR, FOR ADVANCE CLINICAL EXPERIENCE:
With request from the Dean , Faculty of Nursing , Siksha 'O' Anusandhan University , two members of M.Sc. Nursing students specializing in Mental Health Nursing were allowed to visit the IRCA  to get an advanced clinical experience about the mental health care provided by the IRCA.
The students namely Mr. Jagan Kumar Ojha and Ms. Anusaya Upasan Singh visited the centre on 30th January 2019 to acquire some practical experience on management of drug addicts which would help them in their research work and submission of project report .They were briefed about the composite process of Drug De-Addiction and the role of a nurse in rendering proper medical care. The type of medication provided during the critical withdrawal phase  and how they should be handled during this phase  was explained.

With reference to the Handbook on " Substance Use Disorders : Manual for Nursing Personnel", developed by National Drug Dependence Treatment Centre, All India Institute of Medical Sciences, New Delhi, they were briefed about  Management of Substance Abuse Patients in the Out Patient Setting Management  in Inpatient Setting, Emergency Management of Substance Overdose and Withdrawal, Harm Minimization in Substance Use, Psychosocial Treatment Methods for Substance Use Disorder : Role and Responsibilities of Nurse, Management in Community Settings and Community Based Treatment Programs, Substance Abuse And HIV/AIDS etc.
SUPPORT FROM ROTARY CLUB BHUBANESWAR EKAMRA KSHETRA:
The Rotary Club Bhubaneswar Ekamra Kshetra has been supporting ODD FOUNDATION in its endeavour for the human sufferings from time to time.They feel privileged to give any kind of support to alleviate  the sufferings of the mentally ill,drug addicts and PLHIV/AIDS.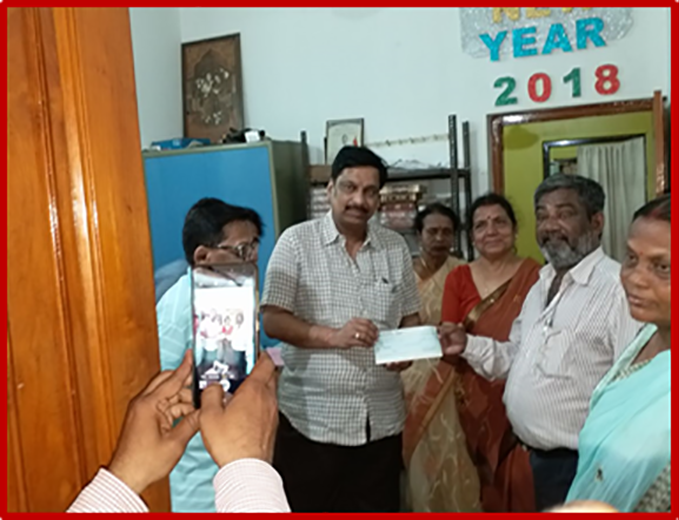 This year Rtn. Ajay Agarwal, District Governor of the Rotary Club Bhubaneswar Ekamra Kshetra and Rtn.  Mrs Sarojlaxmi Patnaik, President of the Rotary Club Bhubaneswar Ekamra Kshetra visited our centre on 9th July 2018. They spent around two hours with the inmates listening intently to the pain and sufferings that an addict goes through during his active addiction. They were very empathetic and especially Rtn. Mrs Sarojlaxmi Patnaik got emotional while listened to the sharings of some addicts. The President donated a Personal Computer and a Printer to ODD FOUNDATION as a token of her empathy and support to the cause.